Electronic Manuals, Textbooks & Online Documentation
Computer-based learning allows learners to be actively involved in the learning process. This interactivity reinforces the training content and helps the learner to retain the training message. Multimedia training enables learners to continually refer to the training application in order to reinforce the training messages. And, the training itself can also be used as an ongoing reference tool.
Electronic format operation training allows learners to study potentially dangerous topics without risk. They can see the results of their actions and become skilled at proper workplace methods and procedures while learning how to work safely at their job. This approach reduces downtime, increases productivity, prevents worker injury, and… saves you money.
onViz has the capability to launch other applications or documents, so you can access other information or databases using customized applications. For example, along with operating procedures, an electronic manual can include troubleshooting diagnostics, itemized parts lists, and even be set up to automatically access vendors Website for parts ordering.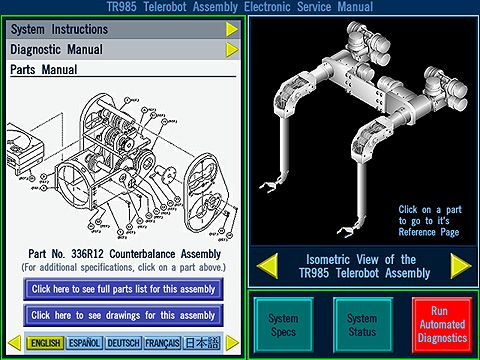 You can integrate several languages in one application so your software can be used simultaneously in various countries.
Discovery Systems help you create your custom electronic manuals that combine rich media with interactivity. Click here to read more...