Interactive Corporate Training Applications
Computer and Web-based training allows learners, who typically have different abilities and knowledge levels, to control the pace and direction of their training. As learners discover new areas of interest and accomplishment, they become seekers of knowledge, not just recipients of instruction. It's not practical to provide that level of customization using traditional classroom training alone.
This example illustrates an interactive application used to educate employees in a mandated Hazardous Materials Training Program.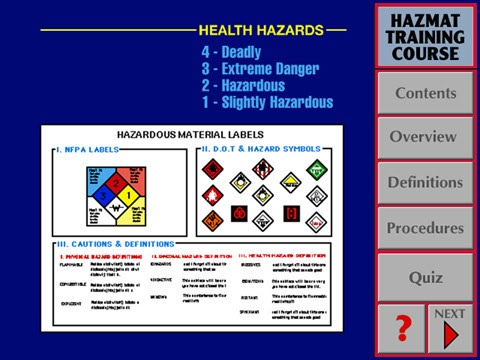 Using this program, employees learn how to read hazardous materials labels, how to read Material Safety Data Sheets, and what action to take if there is an accident involving hazardous materials.
Computer-based learning can be scheduled to fit employee or production schedules, eliminating production downtime. Flexible training delivery allows new employees can start training immediately, and existing employees can refresh their skills at any time. Employees can take training courses before or after their normal shifts and management can make good use of unexpected quiet periods. Hundreds of thousands of training dollars are saved by organizations that invest in the development of self-paced, learn-by-yourself multimedia courseware.
The answers chosen during the quiz are compiled into a format that allows training personnel to track the progress of individual learners, or groups of learners and verify the employee has attained a satisfactory score on the training.
In addition, this feature enables a large organization to track which employees have completed required training, and when further training is required to satisfy organizational or regulatory requirements. Data such as a learner's progress, time spent in the courseware, and test results can be tracked and monitored. Training records can be used to support ISO, QS, and other documentation requirements.
Discovery Systems can help you create your customized Corporate Training applications. Click here to find out more.