Interactive Tradeshow Displays and Kiosks
Typical kiosk applications include airport terminals, bank lobbies, hotel lobbies, museums, zoological parks, point-of-purchase displays, supermarkets, retail establishments, shopping malls, trade shows, waiting rooms, and more. You can create kiosk applications that ask questions, conduct surveys, deliver helpful information, collect information from user input, and respond with feedback.
If your kiosk is connected to the Internet, programs can be set up to automatically send you the collected data at the end of each day.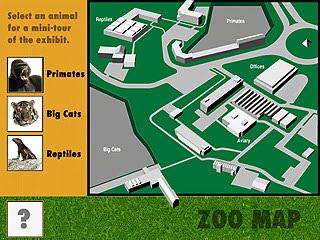 Discovery Systems can create custom kiosk applications for you or work with you on any stage of implementation. Click here for more details...